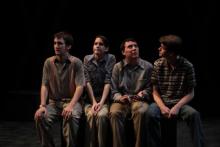 Siblings Ed and Adele inherit an enormous aviary that their late father built for his deceased wife, whose soul, he believed, had transformed into the body of a wren. The grown children are faced with the dilemma of what to do with the crumbling structure—sister-in-law Jane wants to build tidy new houses, friend Olivia wants to use it to build her Church of the Fifth Day, Ed wants the building to fall back into the ground. Folded into this debate are issues of religious conviction, fear of commitment, the way Russian ballet resembles a hockey game, and the courtship of Ed by Tom, a gay professional hockey player.
Evening Performances:
November 5, 6, 10, 11, 12, 13, 2010; 8:00 p.m.