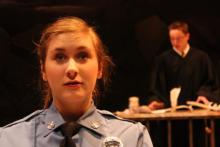 God and the Kingdom of Heaven and Earth vs Judas Iscariot. A cosmic courtroom drama set in downtown Purgatory, with testimony from Mary Magdalene, Mother Teresa, Sigmund Freud, Satan, and more. (With a brief appearance by Jesus of Nazareth!) Was Judas Iscariot an evil traitor of his own free will, or a pawn in a game he could not control?
Evening Performances:
February 18, 19, 23, 24, 25, 26, 2011; 8:00 p.m.