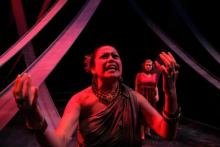 When conscience and civil law collide, what should we do? For what moral issue might one sacrifice all? Antigone risks love and life. Her struggle resonates throughout the ages in countless personal, social, and political expressions. It is timeless, and essential. Sophocles' masterpiece has been re-told anew for the 21st Century in a stunning recent version by poet Brendan Kennelly.
This is the daughter of Oedipus.
She bows for nobody and nothing.
Her heart is fire. Her mind is ice.
Evening Performances:
October 1, 2, 3, 6, 7, 15, 16, 2010; 8:00 p.m.