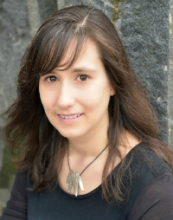 Scenic Design, Associate Professor
---
Professor Katakalos has been a freelance scenic designer, combining the art of storytelling with a compelling environment, collaborative processes, and the dynamics between collaborators. She has been works predominately in San Francisco, NYC, and Philadelphia designing over 100 productions, many of which were world premieres, over the last 20+ years. Her designs have been seen on a variety of stages including La Jolla Playhouse, San Francisco Mime Troupe, Berkeley's California Shakespeare Theatre, Los Angeles' Cornerstone Theatre and Philadelphia's Arden and InterAct Theatres. In NYC, she has designed off-Broadway at the Clurman, at HERE Arts Center, La Mama, 45th Street Theatre, and the Triad. Her designs and devised works have been performed at the Beijing International Fringe and the Singapore International Fringe. She has been the director of the New Play Design Lab at the Bay Area Playwrights Foundation, and is a co-founder of San-Francisco-based Crowded Fire Theater Company, which has been producing and commissioning new works for over 20 years.
She has the honor of having her work chosen to represent the United States at the 2019 Prague Quadrennial of Performance Design and Space, the largest performance design event in the world. Among her many nominations and awards are two San Diego Playbill Awards, two Bay Area Critics Circle nominations, a Barrymore nomination, and the honor of Best Set Designer from The East Bay Express.
In 2018, Professor Katakalos was appointed as the Class of 1961 Professor and is the Artist-in-Residence at Lehigh@NASDAQ. She received her BFA in Theatrical Production Arts, Concentration in Design from Ithaca College, and her MFA in Scenic Design from UC San Diego.
Website:
http://melpomenekatakalos.com/