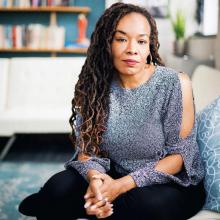 MFA, University of Pittsburgh
---
KASHI JOHNSON is an actress, director, poet and tenured Associate Professor in the Department of Theatre at Lehigh University, where she teaches courses in acting, African American drama, Hip Hop theater, spoken word performance and directs plays. Collaboratively, she has conceived and written several devised plays with her students including gener8-tion Txt, Speaking Freely and Untold Truths. 
Regionally, she has performed in several staged readings including Countdown to the Happy Day for the Forum Theatre, Playwright's Forum, and The Black Women Playwright's Group at the Roundhouse Theatre (MD), and Billy Be Home Soon for the African Continuum Theatre Company (DC) and the Fresh Flavas New Works Festival at The John F. Kennedy Center (DC). Other acting credits include One Woman for the Petermaritzberg Arts and Culture Council in Petermaritzberg, South Africa, The Colored Museum, The Last Days of Judas Iscariot, And My Name Ain't Peaches, As You Like It, King Lear, Denial, Late Bus to Mecca and A Raisin in the Sun.
Select directing credits include Stephen Adly Guirgis' Our Lady of 121st Street, Arthur Miller's The Crucible, Lillian Hellman's The Little Foxes, The Piano Lesson and Joe Turner's Come and Gone both by August Wilson, The Colored Museum by George C. Wolfe, Paula Vogel's How I Learned to Drive, Pearl Clege's Flyin' West, Eric Bogosian's Talk Radio and I'm Not Rappaport by Herb Gardner.
With the creation of her nationally recognized college theater course 'Act Like You Know' Professor Johnson has been an innovator in the area of Hip Hop theater and education. In this course, Hip Hop is the 'Trojan horse' that ushers students into the world of performance, identity exploration and truth telling. Students are challenged to engage social justice issues critical to the Hip Hop generation, and challenged to find ways to incorporate these concerns into their performances. Her pioneering, culturally responsive, approach to teaching performance has been critically acclaimed for its ability to give voice to issues of diversity and inclusion. Professor Johnson has given recorded talks for TEDx and season 3 of BlackademicsTV about the story and success of 'Act Like You Know.'
Dedicated to cultivating new voices from the Hip Hop generation, she Co-Founded Redsun Productions in 2005 as platform to showcase local Lehigh-Valley based Hip Hop artists and a means of nurturing the talent of aspiring performers. Since its inception, Redsun has produced the popular HipHopCollective show over 50 times at Touchstone Theater (PA).
Professor Johnson was awarded Lehigh University's Class of '61 professorship, and is a proud recipient of Lehigh University's Donald B. & Dorothy L. Stabler's Excellence in Teaching award. A member of Actor's Equity Association, she received her B.A. in Theatre from Lehigh University, and her M.F.A. in acting from the University of Pittsburgh.